As a person who has been used and loved Adidas Originals Superstar for a long time, using Adidas Stan Smith was a bit harder for me, which was durable and expensive.
I have always wanted a classical Adidas Stan Smith
Green as well but I always thought it was way more expensive than its other competitors so I kept on delaying for a year. In the end of a year my parents finally found a great deal and they decided to buy it for me. I was really surprised and happy because I was never able to pay it. I was so happy that, I decided to wear it every single day. But there was a problem about it. Even though I literally bought it with the same size as my old Adidas Originals Superstar
this shoes weren't comfy as it. First week of Adidas Stan Smith was really hard for me. The back of my feet hurted so much that I couldn't even stand wearing it. It put way to much pressure on my footbed.
Shoe Features
Leather Uppe
Ortholite Sockliner
Rubber Cupsole
Unusual Adidas design
Doesn't have Adidas's three stripe design
Instead having three row ventilation holes
Usually having minimal Adidas logo
Mostly having picture of Stan Smith
This model obviously made a name for the brand so that's how it became an iconic shoe
is Adidas Stan Smith Comfortable?
This shoes are hard to wear. Even thought I bought it exactly in my size, the back of my feet was hurt in first one or two weeks . The feeling of it wasn't bad in the middle of my feet. The problem is, if I wear my Stan Smith on a physically active day, I just can't wait to come home and get rid of my socks and shoes. But it probably because of that these shoes aren't made for intense sport activities. On a casual day, these shoes are a great fit.
Adidas Stan Smith Sizing Review
Like most of the Adidas shoes, Adidas Stan Smith shoes runs a bit small. If you are planning to buy it, I recommend you try it in a real store. Wear and walk around for a while. If you feel a bit uncomfortable try half or one size bigger, and try again. Your idea may change!
Adidas Stan Smith Durability
Adidas Stan Smith has a full-grain leather upper. Therefore it is much more durable than other competitors. I'm using that iconic shoes more than a year and except for a few scratch, it is very sturdy. It looks like they will last for years! But as I said before, that sturdy shoes are hard to wear for me. May be due to tight structure of shoe. If you like it, be sure that it lasts for years! Very very durable shoes.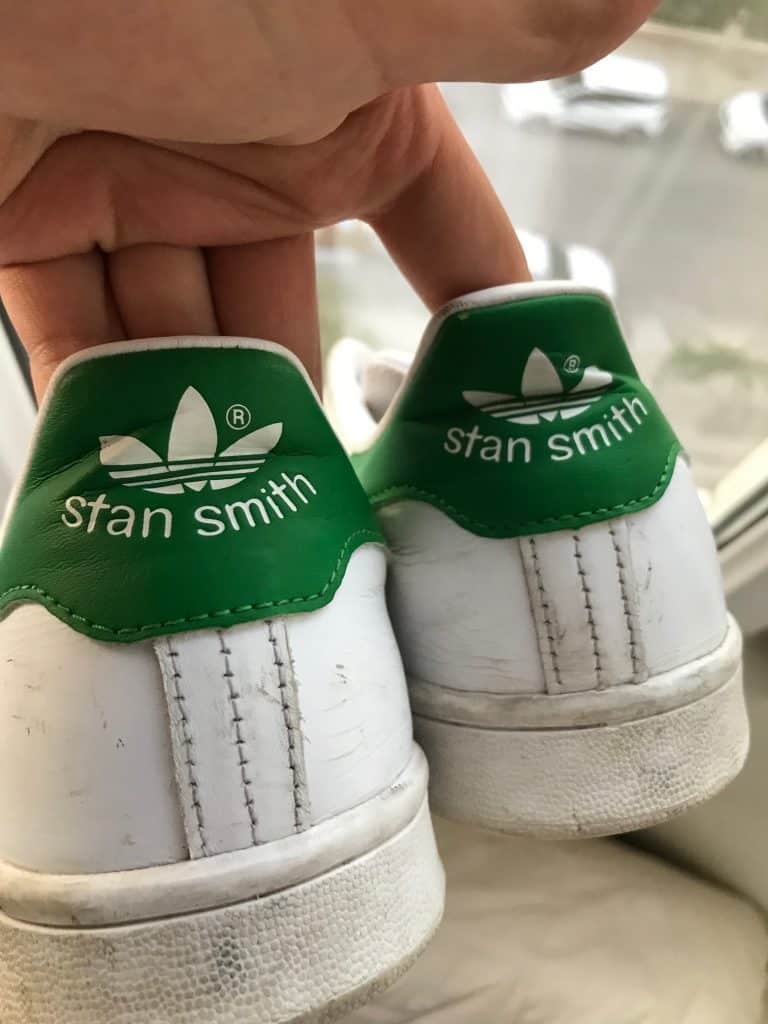 After a year of hard use, my Stan Smith shoes look like this 🙂 A few scratch, but still very solid!
Verdict
Adidas Stan Smith obviously made a name for the brand so that's how it became iconic shoes. They are durable and expensive! I think, I should mention how easy this shoes adapt to outfits. I can wear shorts, leggings or a cute dress and throw this shoes on by still looking good. Would I buy it again? Yes, if I find a deal again. Do I appreciate mine? Yes.